Vino 100 is one of those rare concepts that people hear about and immediately understand. Quite simply they "get" it. It makes sense. And once in the store as Vino 100 customers, they love it! It is their enthusiastic reactions that motivate us to bring our concept to as many wine lovers as possible.
We developed Vino 100, a different type of wine store. Vino 100 offers our customers a comfortable, affordable and fun way to buy wines. We created a store design that ensures that the wine is the star. Each wine is showcased on its own pedestal accompanied by our unique Vino 100 Wine Barometerô, a graphic, easy-to-understand wine rating and information system. We capture this information in our Wine Palate Computer System, and use it to tailor our marketing efforts to further strengthen our relationship with our customers.
The selection of wines at Vino 100 is based on value. We are constantly searching for those wines which provide the most flavor and expression at the best prices we can find. Forget about looking at scores written by people who do not have any idea what your tastes and preferences might be. It is the interaction between the customer and store personnel, and relationships we establish at Vino 100 which make our stores the place you will want to return to, time and time again.
A New Concept in Buying Wine
Vino 100 is a different way to experience wine! Vino 100 is about making wine, and wine buying, easier, more enjoyable and more accessible to you. We have developed a unique user-friendly system to allow you to experience wine that you want and that is of exceptional quality-all at affordable prices!
This system, known as the Vino 100 Wine Barometerô, enables anyone, from wine novice to wine expert, to confidently select a wine that they will enjoy. The Vino 100 Wine Barometer rates each wine on two scales of taste. One scale rates the wine from fruity to dry and the other scale is a rating from light to full body. Using these ratings, you can select wines that fit your taste and food pairings, and not try to guess or use some rating system that does not hold meaning to you, the drinker. Each one of our wines is displayed with a Wine Barometer similar to this one: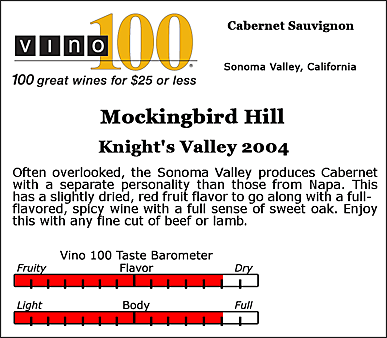 Vino 100 offers limited production, artisan crafted wines at affordable prices. Vino 100 stores carry at least 100 wines that are $25 or less a bottle. We also offer premium priced wines which are great values that are also rated on the Wine Barometer for your convenience.